AIDA presente al 24th World Congress of Dermatology Milan 2019 (WCD)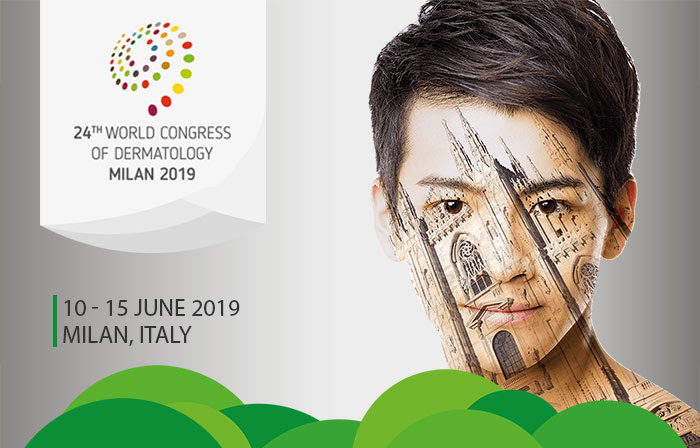 AIDA, come poche altre società in Italia, è membro della International League of Dermatological Societies che organizza il Congresso Mondiale di Dermatologia proprio in Italia quest'anno a Milano dal 10 al 15 Giugno 2019. Per questo motivo, AIDA sarà presente e attiva al prossimo World Dermatology Congress, in particolare attraverso due sessioni dedicate esclusivamente alla nostra Associazione e che costituiranno anche la giusta occasione per incontrarci. 
La prima sessione AIDA si svolgerà il 10 Giugno dalle ore 14:30 alle 17:30
co-chairs: A. Martella, D. Piccolo, L. Villa
Di seguito gli argomenti del programma scientifico:
Lecture
14:30 – What's new in Vitiligo (G. Menchini)
Session 1 – SKIN CANCER GUIDELINES AND ROLE OF DERMOSCOPY
15:00 – Actinic Keratosis and Squamous Cell Carcinoma: guidelines and role of dermoscopy
(S. Gasparini)
15:20 -Spitzoid lesions: guidelines and role of dermoscopy  (G.L. Giovene)
15:40 -Melanoma: guidelines and role of dermoscopy  (D. Piccolo)
 Coffee break
Session 2 – DERMATOLOGY AND WEB
16:30 – Online dermatology practice: what people would like, what can be really done
 (A. Martella)
16:50 – What does mean to be a dermatologist online? (F. Osti)
17:10 -How to make an effective marketing dermatologist communication? (G.Menchini)
La seconda sessione AIDA si svolgerà il 13 Giugno dalle ore 07:00 alle 08:00 
Reputation and 
digital

 dermatological professional approach

co-chairs: S. Gasparini, D. Piccolo

07:00 -Social networking sites: tools for the dermatologist's communication (F. Osti)

07:20 -Dermatological sites: a source of public health (G. Menchini)

07:40 -The influence of digital media on the dermatologist's reputation (A. Martella)
Scegli e riserva ora la tua partecipazione alle sessioni AIDA in programma durante il prossimo WCD cliccando qui
Infine, ti aspettiamo al nostro stand AIDA con novità e servizi per il dermatologo!